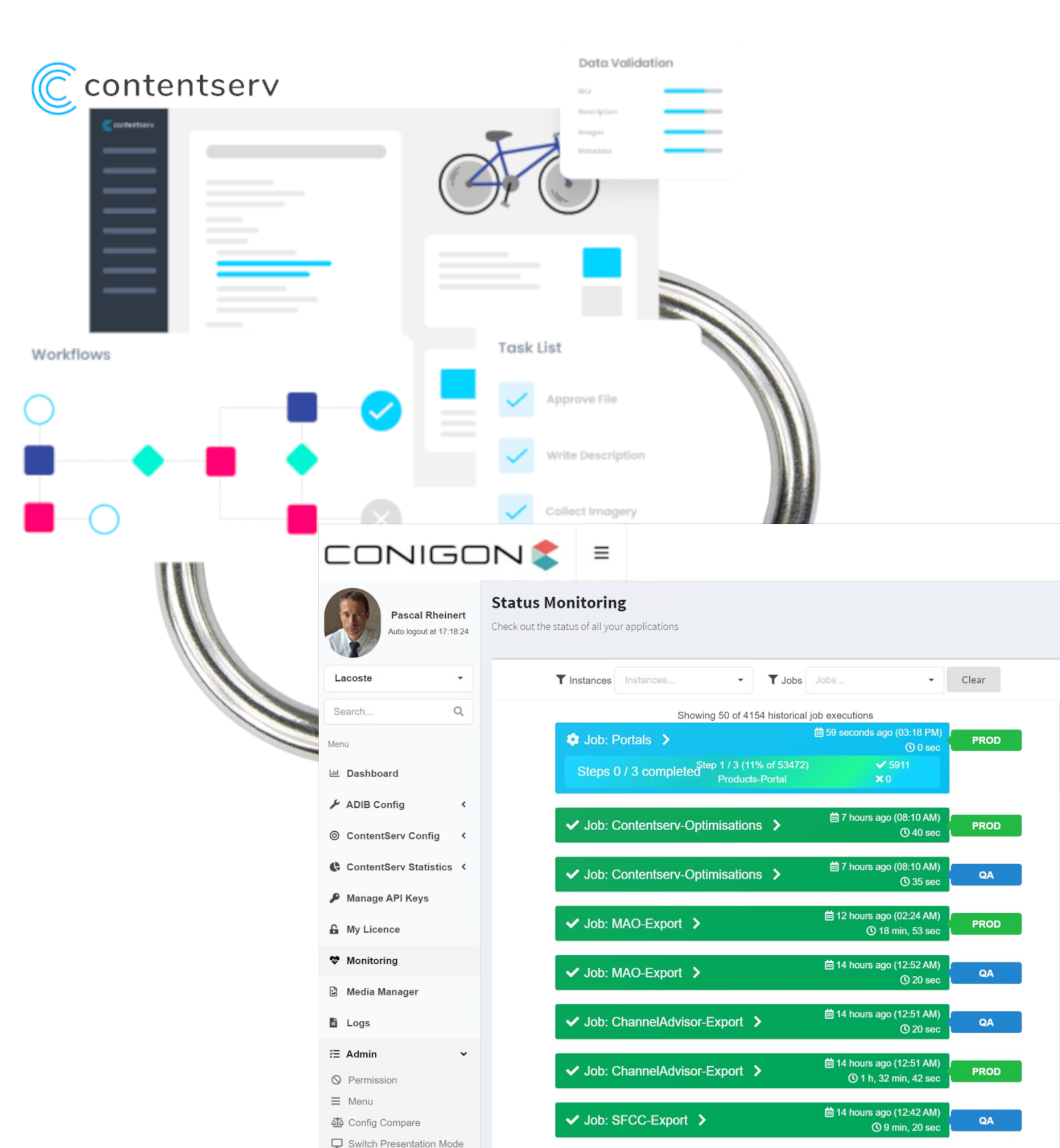 Conigon ADIB as a perfect addition to the Contentserv PIM/DAM
CONIGON is the experienced Contentserv partner who knows both the company's point of view from its own experience – as well as having developed and successfully deployed comprehensive and field-tested solutions within the scope of relevant implementation projects at well-known customers : We know the business and the technology!
With the help of Conigon ADIB you can connect any system to Contentserv – or create innovative search portals that you can configure individually for your website or for your B2B customers. They are part of our suite ADIB – Application & Data Integration Bus, which you can also use to connect your Shopware eShop to your SAP system, for example!
Overview of the individual solutions with Contentserv
ADIB Contentserv Migrator
Create the data model and list of values ​​via flexible portals. Contentserv is then set up at the push of a button.
ADIB Contentserv Automatic Import
Flexible and high-performance data import from any source with flexible transformation – this is how you easily connect your ERP to your PIM.
ADIB Contentserv Lightning Export
Export your products to the website, your eShop or send them to your customers automatically.
ADIB Contentserv Portale
Your products from Contentserv in a special portal – can be integrated into your website or your customer portal
ADIB Contentserv Migrator
Introduction of your new PIM optimally supported
Are you planning to introduce the Contentserv PIM system as a replacement for your old application? Do you have an established data model that you would like to extend in one or two places – without throwing everything overboard?
Are you looking for a way to configure the data model of your Contentserv PIM as efficiently and automatically as possible or to migrate it from one to another – without manual input? Or need a central tool to keep your development and live system up-to-date? In this case our "Contentserv Migrator" is the perfect solution!
ADIB Contentserv Automatic Import
Highest performance and flexibility
Do you import mass data into your PIM system on a daily basis, which come from different source systems (e.g. from your ERP system – such as SAP, from suppliers, …)? Due to the amount of data, other connectors quickly reach their limits… Then you need the "ADIB Contentserv Automatic import"! It uses the most efficient method of importing data into your Contentserv – and is more flexible than any other solution on the market in terms of the source systems to be connected.
Thanks to the innovative "CONIGON ADIB" engine, the "Automatic Import" achieves outstanding performance and is extremely flexible. The configuration is intuitive and can be performed via a web interface without any programming knowledge. YOU define the time and frequency of imports – and flexibly link different sources.
ADIB Contentserv Lightning Export
Highest performance and flexibility
Is your online channel as dependent on up-to-date product data as your B2B customers? You provide these daily from your Contentserv PIM system. However, due to the amount of data, other connectors quickly reach their limits – and exports take hours… Then you need the "Contentserv Lightning export"!
This uses the highest-performance data source of the Contentserv system – and is more flexible than any other solution in terms of the target systems to be connected. At the same time, configuration is simple and intuitive via a web interface. You do not need any programming knowledge for this. You can define the exact time and frequency of exports – and flexibly connect different target applications.
ADIB Contentserv Search-Portal
Products from your PIM system in your own portal
You maintain your product data in the Contentserv PIM/DAM and are looking for a way to make this data available to your customers? The ADIB-Portals are designed to do just that.
The data is synchronized automatically and in terms of the attributes to be displayed, search facets, search and display options, the ADIB portals offer everything you need – from high-performance searches and comparison lists to flexible downloads based on configurable templates.
Satisfied customers are what drives us
Jean-Christophe Thuan
Solvay
,
Conigon guided us completely throughout a complete PIM integration with multiple constraints (number of products, complexity of data model, security requirement, multiple integrations). A massive credit to their dedication and problem solvay capacity.
Houda Chouaïb
Lacoste
,
Conigon is the expert in the Contentserv application environment. With the help of the Conigon-ADIB, we were able to significantly improve the performance and stability of our imports and exports.
Read more ...
Juliette Forte
Franceair
,
France Air has chosen the ADIB solution to make all documentation accessible to its users and customers. We are very satisfied with this freely configurable solution.
Read more ...
Olivier Barboyon
Airvance Group
,
Thanks to Conigon and ADIB, we can make optimal use of our Contentserv PIM and DAM solution.
Thomas Oberdörfer
TÜV Saarland Bildung
,
Avec l'aide de l'ADIB, nous veillons à ce que notre Shopware eShop et notre système Moodle eLearning soient parfaitement connectés à nos systèmes backend.
Read more ...