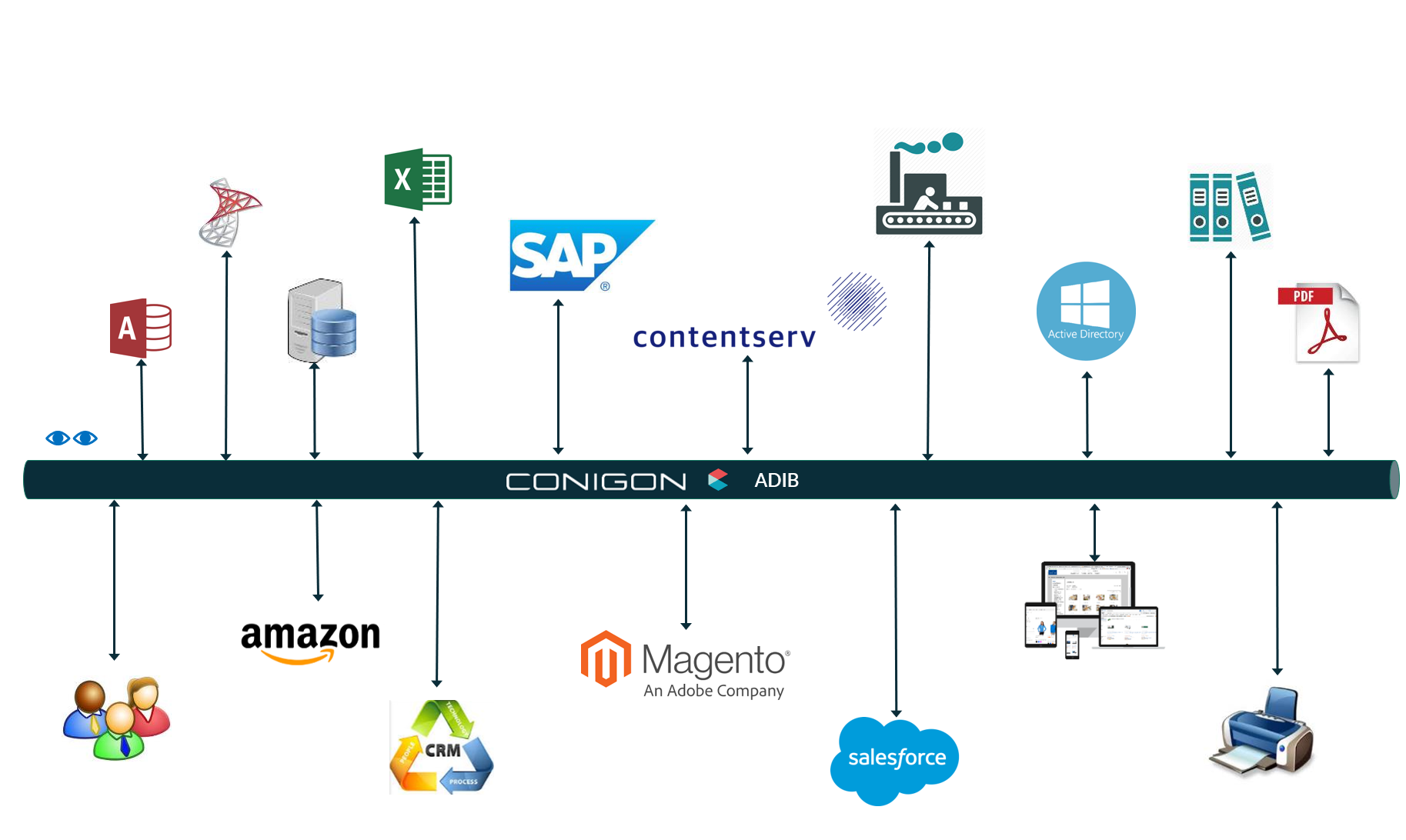 Advantages of ADIB
Every company faces the challenge of having to operate a large number of systems. As digitization continues, more and more applications are being introduced that also need to be managed.
Every software uses and produces data from and for other systems. This flood of data needs to be tamed to ensure long-term business growth. The CONIGON Application & Data Integration Bus – ADIB for short – starts exactly at this point and enables the integration of numerous systems at only one central point of contact. This is where all systems converge, making it easy to configure the management of the various system data. Thanks to the modern graphical guidance, the use of the ADIB does not require a computer science degree, but can be used efficiently by both occasional users and experts.
Features and advantages of the ADIB-Entreprise Service Bus
Modules and interfaces
The ADIB is a modular ESB solution that has extensive modules and interfaces that you can use without programming.
Real-time monitoring
Thanks to the innovative architecture, ADIB displays the data transfer between applications in real time – and shows the history as charts.
Easy configuration
You do not need any programming knowledge to network your systems. Configuration is extremely easy thanks to the intuitive GUI.
Instances and alerting
You can set up multiple transfer servers that are independent of each other. In case of errors, ADIB sends alarm messages.
Automated process doc.
ADIB relieves you of the laborious creation of process documentation to a large extent: it is generated automatically.
Portal management
You can integrate several ADIB portals into a central portal and flexibly design access via rights roles.
Interfaces / modules of the ADIB
ADIB is very flexible and versatile – and the list of interfaces (connectors and integrators) is constantly growing – from various database systems (MS-SQL-Server, Oracle, MySQL, ..) to business applications such as SAP, Salesforce, Shopware, Contentserv to configurable API calls, almost everything is offered.
The special feature is the expandability: You can even integrate your own scripts and functions – which then also run centrally via the monitoring!
The processes are configured in ADIB "Central Station". Here you create "jobs" (overall process) and "steps" (partial processes – e.g. a specific transfer of data between 2 databases), define the parameters (such as IP address, user and password) and the fields to be transferred. Here you also create transformations of the data, filters and so on.
You do not need any programming knowledge for this – but you must be familiar with the processes. Good news: The configuration is controlled via "Wizards" and the ADIB has functions that e.g. read the structure of tables or the data model of the Contentserv system. For this reason, the configuration is much easier than with other ESB solutions!
Automated process documentation
In the ADIB "Central Station" you enter all information about applications and interfaces. This is not complicated – but still a lot of work.
Thanks to ADIB, however, you save the creation of detailed process documentation afterwards – ADIB does this for you at the push of a button. This saves you a lot of time and effort to enter this data again in another tool – which, according to experience, is also rarely up to date. This will not happen to you with the ADIB!
Real-time monitoring and charts
All information comes together in the ADIB "Central Station". Comparable to a "control station" you can see the status of the processes at a glance and follow the data flows in "real time".
Detailed information such as the number of transmitted (or faulty) data packets for each transmission step is available at the push of a button – as is a history in the form of diagrams.
An instance is an integration component of the ADIB ("Integration client"), which is managed via the interface of the ADIB. The advantage of this division is the simple separation of test and productive systems – and also of servers at different locations, which take over independent process tasks.
You keep the overview, because ALL components give the status to a central office. Additionally, you will be informed (e.g. by mail, Discord, …) if important data transfers fail.
ADIB-ESB and ADIB portals are the ideal combination: You create a dynamic portal just as easily as a data transfer into a table – and you can use the portal management to activate the created portals specifically for your customers.
Via the delivered "portal station", your customers have a central access point – and thus access the portals intended for them. You can create user groups and users via the ADIB – and connect the portal station via your central user management.