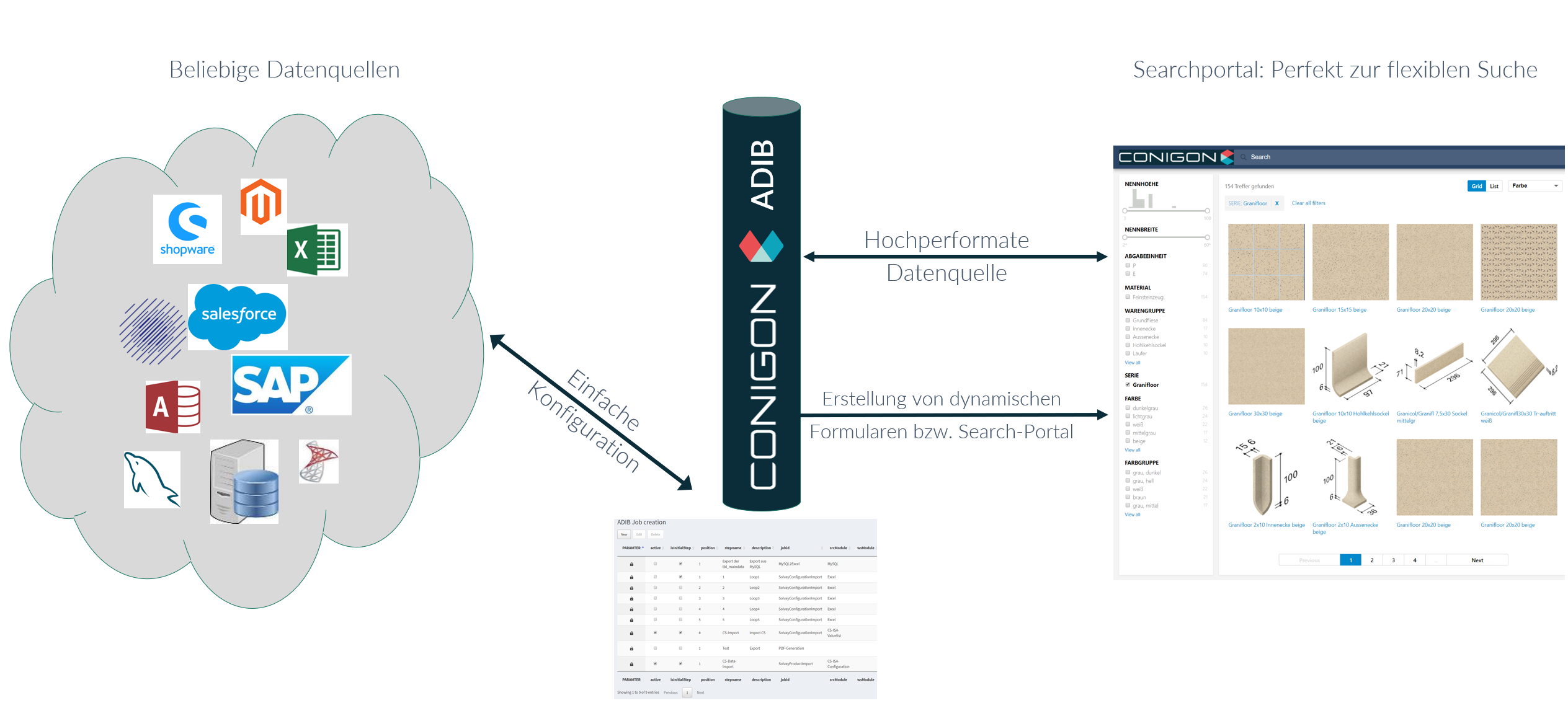 ADIB-Portals
What are ADIB-Portals?
You want to display data from different systems (SAP, PIM system, logistics system, …) in an intuitive web interface – so that your customers or employees can quickly find the information they need – instead of searching for a long time?
You want to modernize and digitalize your product catalog?
This is exactly why CONIGON developed the ADIB-Portals. Herewith you create portals with freely configurable search – and many possibilities of presentation – up to a B2B ordering possibility with direct integration e.g. into your SAP system at the push of a button!
Use cases of the ADIB-Portals
Intuitive search portal from any source
ADIB portals can be fed from any source (e.g. Contentserv, SAP, databases, Excel, ..).
Document portal with preview
Via ADIB portal, you give employees or field staff easy access to data sheets, operating instructions, ..
Edit portal with transfer of changes
Your suppliers deliver data lists that you check via the ADIB portal and then write to Contentserv.
Digital product catalog for your website
The ADIB portals can be perfectly integrated into your website. This allows you to provide your customers with the data they need without additional interfaces.
No additional interface
No programming required
Additional functions such as comparison list,..
Visualization of SAP master data
The ADIB has interfaces to SAP. This allows you to easily search for the data in the portal (via free text search or facets), visualize and even download it.
Use of the ADIB-SAP interface
No programming required
Easily find SAP data
Flexible front end to a database application
ADIB and ADIB portal represent the ideal combination to replace a (possibly outdated) database application. You can write your own functions for this.
Use of ADIB-ESB and ADIB portal
User access via "portal management"
Development of individual functions is possible